S T A T U S : Completed 2010 B U D G E T: $ 50,000
Tiered Classroom Renovation
This project is the renovation of tiered classroom 103 in Pharmacy Buildingon The Ohio State Universitycampus. It includes the removal of concrete stairs and electrical closet to extend platform area for a new podium. It also includes new lighting, new technology for audio visual, ceiling, flooring, and new stairs on to platform.


The platform form stairs needed to be relocated along with the relocation of electrical closet, electrical controls, and wireless control of projector screen. The classroom entrance door will be replaced with a new 90 minute fire rated entrance door with glass window for visual to the corridor and to provide equal opportunities for all. This way avoiding accents of hitting people in the corridor as the students exit the classroom. This project's budget restraints required applying for a variance against the requirement of making the platform accessible.

The platform is concrete on steel deck with VCT flooring and rubber trim. Stairs include painted steel handrails. Project includes new plastic laminate custom built podium, painted gypsum board, lay-in acoustical ceiling tile, 90 minute fire rated wood entrance door, and parabolic light fixtures.


---
P R O F E S S I O N A L S E R V I C E S I N C L U D E :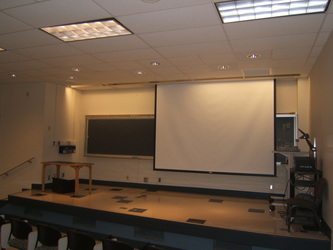 Platform Alterations with Podium
- Drawings/ Specs for Demolition of existing

- Intensive Programming Phase with Client / Users

- Design Services for the Building

- Construction Documentation/Specifications for Building

- Construction Administration Services



---