S T A T U S : To be Completed 2015 B U D G E T: $ 800,000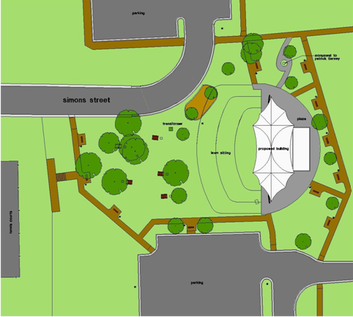 Rendered Site Plan
The project calls for the design of an amphitheater in an existing park location near the shoreline of Lake Huron. The Amphitheater includes 1,500 square feet of space for storage and toilet room facilities behind the performance stage area. The project required close coordination for electric, sound, and lighting equipment.

The Amphitheater boasts a twin mast tensile structure which is approximately 44 feet in height with a perforated tensile fabric to cut down on the wind load. The comfort station is constructed of single width, colored split and ground face concrete masonry units with a steel structure and Dura-last roofing. One challenge is designing the tensile structure for a high north-eastern wind load. The site presented a challenge in locating this facility on the site, with numerous large trees that had to be protected and integrated into the design. Surrounding homeowners once had a completely clear view of the lake beyond, however, we have integrated the Amphitheater into the surrounding property owner's sightlines as to not detract from the tranquil views of the lake.

The Master plan for the Lexington Amphitheater takes into consideration the future use of the adjacent marina, restaurant and residents. The first phase of the project replaces the existing comfort station, upgrading to modern standards, including ADA accessibility. The Second Phase is to install retaining walls and sculpt the land so that the stage is above the audience sitting on the grass in the park. The third phase includes the raising of the mast structures and the tensile fabric roof to give Lexington it's land mark and signature sculptural entrance from land and sea. The last final phase will be to replace all the sidewalks from wood plank to concrete and replace all the lighting with upgrades and several additional amplification features with speakers and electronics.


---
P R O F E S S I O N A L S E R V I C E S I N C L U D E :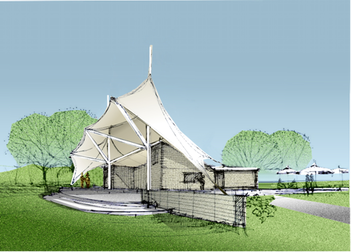 - Drawings/ Specs for Demolition of Pre-existing in same location

- Intensive Programming Phase with Client / Users

- Design Services for the Building Additions and Site Components

- Construction Documentation/Specifications for Building and Site Components

- Construction Administration Services




---